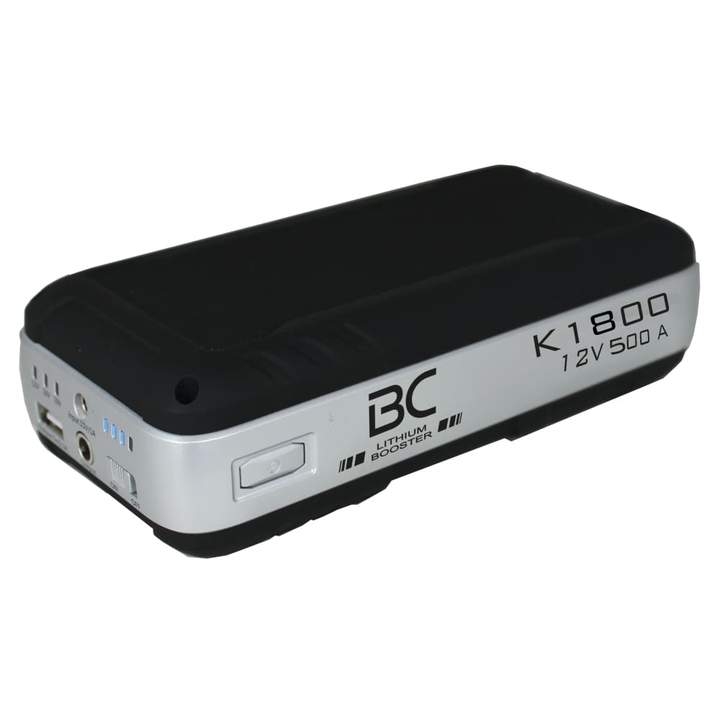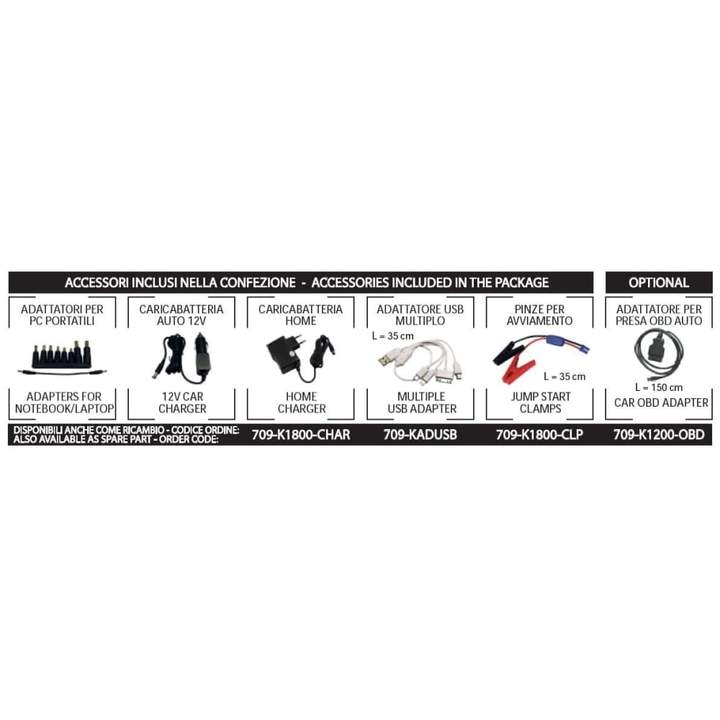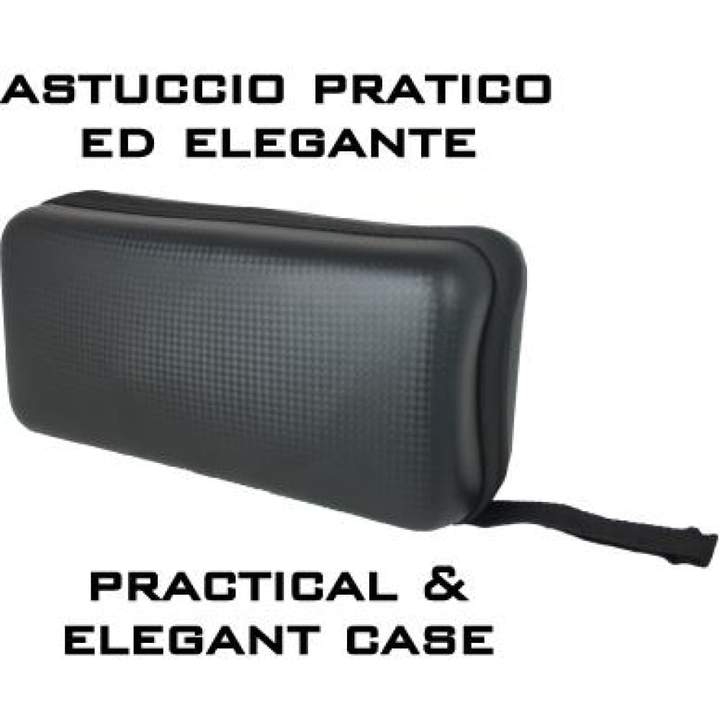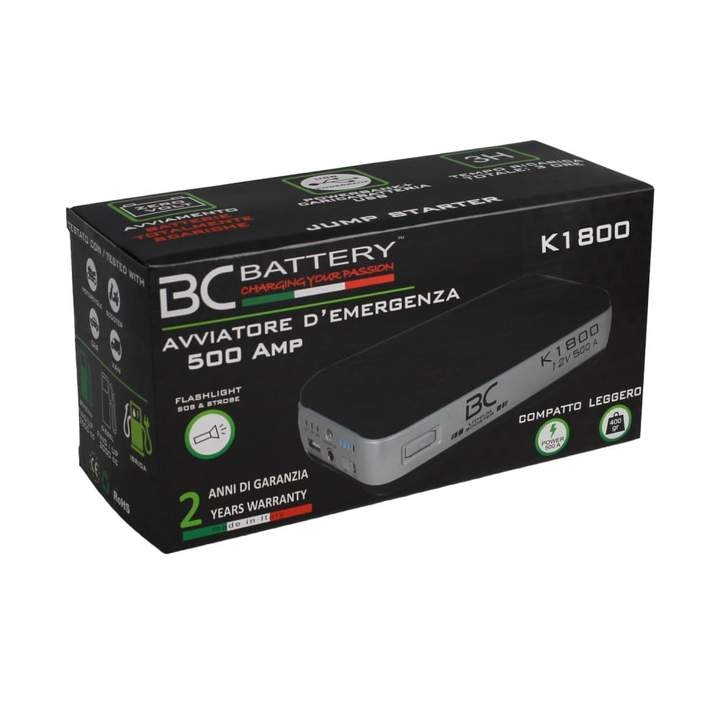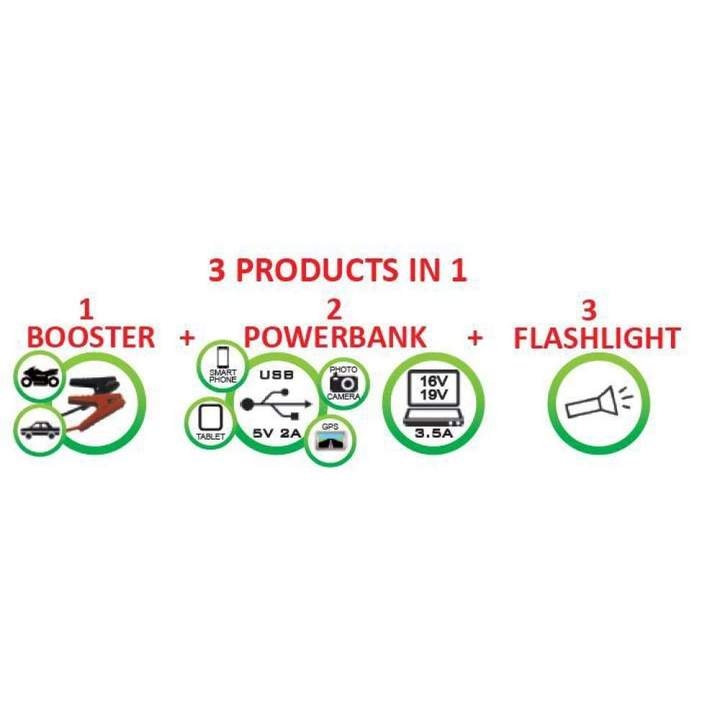 battery contoller - BC K 1800 Booster/Starter za automobile i motore
Opis proizvoda:
his booster can start all vehicles (both hybrid, diesel and petrol) up to 2500cc petrol or 2000cc diesel and thanks to its compact size and low weight it is ideal for both private and professional use in the motorcycle workshop: you can store it in a car compartment, under the saddle, on board a rescue vehicle or in your pocket!
With its 500 amps of starting, the product ensures excellent performance and can restart your battery even from scratch: so you no longer have to worry about standing still.
ADVANTAGES - BC K 1800
Using it is very simple: just attach the clamps to the battery poles (red clamp to the positive pole, black clamp to the negative pole) and connect the clamps to the starter coupling.
Its small size and minimum weight make it practical to use and ideal to always carry with you on any occasion.
Equipped with a latest generation lithium battery, BC K1800 can be stored for a long time without the risk of self-discharge : it will therefore always be ready for use in case of need.
FEATURES
BC K1800 is a multifunction device: it also integrates the powerbank function :
- You can use it to charge any electronic device thanks to its integrated USB socket (e.g. smartphones, tablets, satellite navigators, etc.). Thanks to the multi-socket cable included in the package you will not have to worry about carrying all the chargers of your devices with you: in fact it is equipped with different connections (Lightning, Mini USB, Micro USB and Dock) to connect a large variety of devices.
- BC K1800 can also be used for charging laptops, thanks to the 16V and 19V socket: adapters for the main brands and models are also included in the package.
- The device has a LED flashlight with SOS and stroboscopic function, always useful in case of need even for professionals and a 12V 10A output for powering instruments such as compressors or power inverters.
- Finally, BC K1800 can also be used as a "memory saver" device to be used when replacing the battery of your vehicle using the optional OBD adapter : in this way all electronic systems will be kept in perfect condition.
- The product has a 2-year warranty (reduced to one year if purchased with an invoice for professional use)
Its four intuitive LED lights allow you to monitor the charge level of the device at any time (we always recommend not letting the charge of the product drop below the two notches); it is also possible to select the three different output voltages (12V, 16V, 19V) by pressing the practical side button.
All BC Battery boosters / starters are of the latest generation and among the safest and most advanced on the market.
With a modern and ultra-compact design, BC K1800 can be stored together with all its accessories in an elegant case included in the package.
CONTENTS OF THE PACKAGE
- BOOSTER K1800
- pliers for starting
- charger for home network
- charger for 12V car socket
- multiple USB
adapter - adapter for laptops
- elegant carbon effect case
DATA SHEET:
Dimensions and weight: 180 x 85 x 50 mm - 400 g
Input: 15V 1 Amp
Output: 5V - 2.1A / 12V - 12A / 16V / 19V - 3.5A
Total recharge time: 3 h
Starting Current (AC): 250A
Peak current (PA): 500 A
Operating temperature: -10 ° C - + 60 ° C / + 14 ° F - + 140 ° F